MLM or Multi-level Marketing business is a legal business where the products and services are available for people at a reasonable price. Commissions and compensation set by the company determine the payment availability of the potential consultant.
Apart from earning money by your sales, you can also earn a percentage of the income generated by the distributors which you've brought into the program (your downline). Not all MLM Companies are scams or fraud. There are many MLM Companies who have reached success by doing clean business.
Unfortunately, not every multilevel marketing opportunity is a legitimate business opportunity. Many pyramid schemes are fraud-like scheme whose ultimate aim is to grab your money.
The primary goal of an MLM business is to circulate the product and make the brand famous. To accomplish the goal, one has to enlarge the network by recruiting many people. Whereas pyramid scheme only focuses on snatching your money, you should again recruit others under you to regain the money to keep the business going. Many countries have banned pyramid scheme, and it is a big offense if you join it.
Even though both appear to be similar at one glance, one must be able to distinguish MLM and pyramid scheme effectively. Below are some points which you should be aware of before joining in MLM.
Check whether the MLM company you wish to join provides quality goods and services appear to be similar at one glance.
Check whether the MLM company you wish to join provides quality goods and services.
Make sure that all the policies and rules which the company put forward are legitimate. Maintain good communication with all the members out there.
Crosscheck whether the features which they claim about their items are authentic.
Do you need to lend a large capital amount to become a frontline distributor?
Have a look at Better Business Bureau Rating(BBB) for the company. Check whether there is any complaint registered for the company and if so, then how the company resolved the dispute.
Is there more emphasis on recruitment than on selling the product or service? If this the approach rethink before you join the company.
Joining a legal MLM company will not only fill your wallet but also provides you satisfaction and career growth. So, before joining into MLM, try to collect maximum information regarding the business and marketing plans of the company. Try to contact people who are working there to seek their work experience with the company. If everything goes fine then, MLM can be fact and fun as anything else.
WHAT'S THE DIFFERENCE BETWEEN MLM & PYRAMID SCHEME?
MLM and pyramid schemes – the two most popular terminologies in the quick-money marketing world with potential differences. While one tagged under a perfect plan or scheme to introduce a product into marketing and revolutionize it through customers, the other prevailing to be the worst scenario – scam business scheme!
Yes, you heard that right, there is a potential difference between an MLM and a pyramid scheme.
There is a significant difference between these two terms and let's have an analysis on it sincerely so that you can differentiate between them with specific identifier's (certain guidance has been displayed in this article to do so).
A pyramid scheme is more often a Ponzi scheme that draws the attention of the crowd with many offers and attractive marketing opportunities. The lateral difference between the two is that MLM or Multi-level Marketing is more on the part of best marketing course of action and the other hand pyramid is purely a scam that offers just money based part. Let's study each of them separately,
WHAT IS MLM AND HOW IT WORKS?
MLM is more often one of the best ways to market a product rather than making plentiful of money. Say, like you're launching a product that has enough competitors and you need to accelerate the product selling in the best way. Usually, the efforts are put forward to enhance the products through distributors and circulate it by selling the product and adding new members to the network.
This MLM marketing scheme is also known as network marketing, and it often gives an opportunity to create a good force-sales team. It does help to boost-up your sales, as well as an MLM marketing organization, will be there to monitor on every action done by the corresponding members of the network.
There are many MLM organizations and people who became millionaires with these marketing schemes.
The usual proceedings of an MLM platform usually follow the below cycle,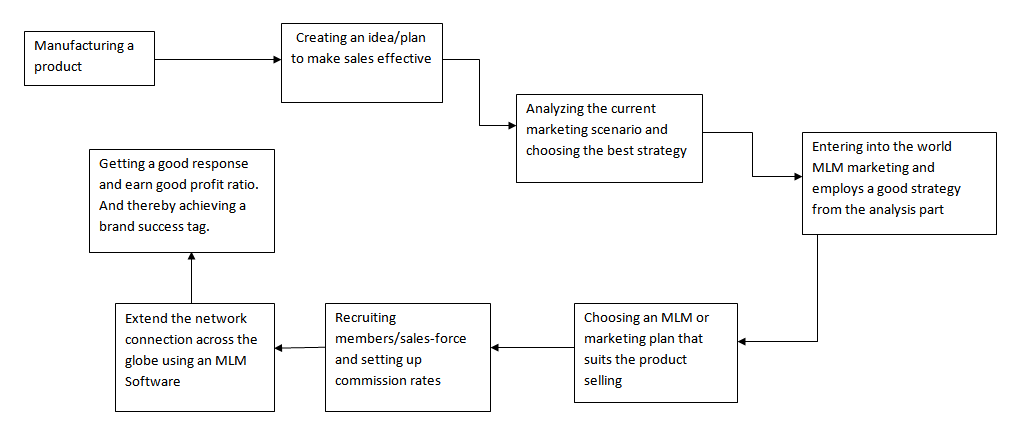 The above flow diagram tells you exactly how this MLM part works and how things work naturally.
As I mentioned above, you do manufacture the product then, makes a plan to create a good sales idea. Then, analyzing the current marketing strategy by means of research, observations, case studies, proper dig-ups from various sources, etc. This is the best way to create such a strategy, and often this leads to a perfect state.
Now, entering into the MLM world to develop vast opportunities and create an excellent opportunity is the ultimate aim. Now that you have decided to get in, it's time to choose an MLM or marketing plan! A marketing plan does carry a total outlay or structure of how marketing has to be done, i.e., how does the compensation structure to be molded? The arrangement of network and like more questions are solved here in this part.
There are various plans available in the MLM world like a binary plan, uni-level plan, matrix plan, etc. choose one among them wisely.
Go to the part where marketing plan is analyzed and move into the employing of force-sales team. This part has to be linked with a proper connection across the globe as well as local network. Set-up a commission rate and all other stuff and that's it with the combined effort your brand name will be there at the top. An MLM Software is usually, implemented to take care of this part.
These all parts comprises to be called as an MLM Scheme.
Now that you understood about what MLM is let's move on to the Ponzi scheme part – the "pyramid scheme."
WHAT IS A PYRAMID SCHEME?
A pyramid scheme, the worst part of marketing scenario with just a motto of creating money. A readily created marketing campaign through advertising or real talk but no real products is being sold. Fake promises by collecting up initial funds in large volume, no return policies mentioned, illegal in nature, an investment with no guidelines, etc. can catch the attention of being in an "alert state."
Well, there are many ways to catch-up this scenario; a Q&A list can help you to solve this issue.
Is the initial fund or payment in high terms or say about high value?
Will you get back at least 80% of your money back if the products are unsold?
Does the organization emphasis more on recruitment rather than product selling?
Are they not interested in consumer care?
Is it just focusing on money chain without any guarantee?
Aren't there any regulations to be followed?
If these questions fall under the shades of doubt or not trustful then, yes come to the conclusion that it's fake or scam!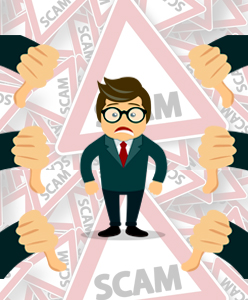 It's more a miss-leading path with mischievous nature. Always a trusted brand or an organization even if it is new to the business world but with a board of members and regulations – it's worth a try!
Basically, this is the best differentiating approach to understand the recognition of MLM marketing scheme from that of the pyramid.
| Factors to compare | MLM scheme | Pyramid scheme |
| --- | --- | --- |
| Legality | Offerings | Authority |
| Legal | Commission & other compensation schemes for product selling & member sponsoring | Controlled by an MLM organization |
| Illegal | Emphasis mostly on money terms rather than product selling | No authority, just fake promises. |
| Initial investment | Less of cost or no special fees | High value of money as initial amount |
The above table will help you for rough analysis between these two and hope this article caught your attention in understanding the difference between an MLM and a pyramid scheme.